Windy Whiskers Poultry is committed to doing their best to ensure you get shipped eggs that you can hatch. We take great care in our packaging and do everything possible to ensure you have a successful hatch.
We took a poll and found most people that have ordered and received eggs preferred receiving eggs that were shipped in foam. Most commented that they had better hatch rates when their eggs were shipped in foam. The foam gently holds the eggs and cushions them from some of the forces they are exposed to in shipping. The foam also provides some insulation to protect against temperature swings and extremes. Since so many people preferred the foam shippers we bought some 4 inch foam and a foam hole cutter, created a jig and set about creating our own foam shippers.
We use open cell poly foam for our shippers. Poly foam excels as packaging material and for transporting dedicates. Our 4 inch thick foam shippers will hold 15 eggs, so you will get a few extras when you order a dozen. We put the foam shipper in a small box and carefully insert the eggs into the foam. This smaller box is then placed on half inch foam in a larger box. More foam is folded and then padded on the sides to provide a cushion and shock absorption. Your NPIP paperwork is then added to the top on a layer of bubble wrap and the box is then sealed. The double boxing is to add an additional layer of protection and insulation for the purchased eggs.
​
To the outside of the box we add colorful labels noting the contents are FRAGILE and PERISHABLE. Your shipping label will be placed against a bright label with our NPIP number and your phone number clearly written along the side. We ship HOLD AT PO. That means the address the box is shipped to is your local Post Office. HOLD AT PO is a service that the postal service provides. Not all Post Offices will hold a box that is not properly shipped. To avoid any issues we use this shipping method when we ship.
Shipping HOLD AT PO has to be done through Click-n-Ship and is a little more expensive. The additional expense is worth it as the box of eggs will never accidentally go out on a truck for delivery. Buyers will be sent the tracking information so they can watch the progress of their shipment. I do recommend calling your local PO and advising the eggs are coming and to please call you when they get there. We have a great local PO and they often will call me as soon at the box arrives, often before they even open I can get my package.
​
Once you get your eggs it is recommended you put them in a carton with the larger side up and allow them to sit at least overnight. I have let eggs sit this way for a few days as I tend to receive them mid week and like to start my hatches on a weekend so they hatch on a weekend. You want the air sack to get stable and a few days of sitting seems to give the eggs time to stabilize before they start to develop.
We will ship to the address that is listed in PayPal. This address must be a verified address or we will NOT ship. We will not make changes to the shipping address and ship to a location not listed in PayPal. If you have the incorrect address I will cancel your purchase and allow you to correct the issue and then resend.
Our main shipping days are Monday and Tuesday. We are flexible and we can arrange other days for shipping. A quick email and we can work out the details so you get your eggs when you desire to get them.
​
We do everything possible to get the eggs to you intact and ready to hatch. That said.. there are no guarantees on hatched eggs. We cannot be responsible for what happens to the eggs once they leave our hands. We have no control over the box once it is given to the US Postal system. There will be no refunds for shipped eggs. If the postal system is not very kind to the shipment you will need to file a claim with the postal service.
SHIPPED EGGS ARE A RISK.
OUR HATCH RATES ARE GOOD HERE SO EGGS ARE FERTILE.
POOR HATCH RATES ARE POSSIBLE.
WE WILL NOT REPLACE EGGS DAMAGED IN SHIPPING.
​
To see how we ship live chicks and birds see HERE.
Foam Eggs Holders
ALL eggs shipped from us are double boxed. The inner box holds your eggs. We use 4 inch foam to gently hold your eggs in transit. We make these foam holders ourselves.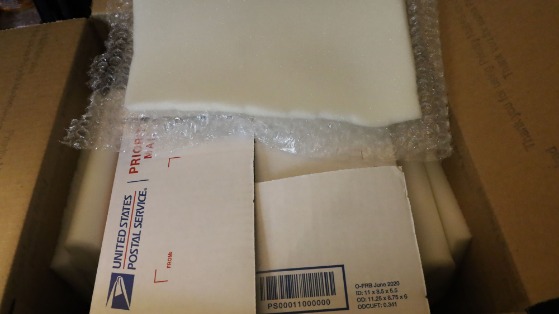 Foam Surround
The box containing the eggs is then placed on bubble wrap and foam, cushioned on the sides with more foam, and finally more bubble wrap and foam is added to the top. We pack so the inside box has some movement that is cushioned to absorb the shock shipping usually puts on the box.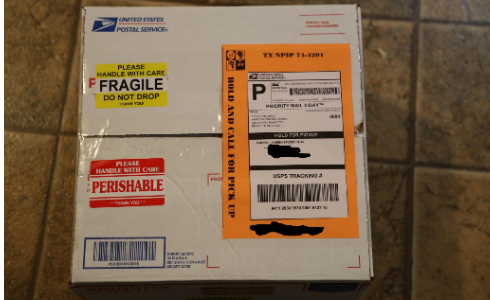 Hold at PO
We add a bright label with our NPIP number on the label and ship HOLD AT PO. The address will your local post office. We need your phone number so they can call when they arrive.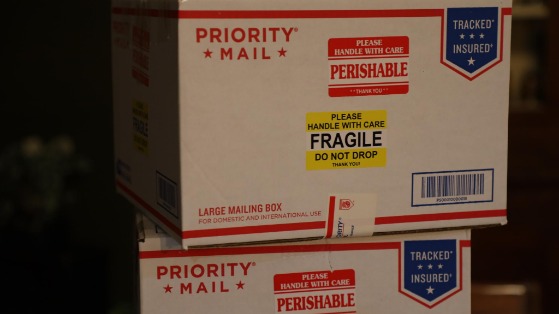 Clearly Marked
Boxes are clearly marked FRAGILE and PERISHIBLE. If the box arrives damaged, take photos of the outside and the inside so you can file a claim with the post office.